Aboitiz Construction's President and CEO and Philippine Constructors Association's Chairman for Talent and Capacity Building, Albert A. Ignacio, Jr. shared his take on rebuilding and restarting in the new normal and the company's return to work plans in the weekly webinar series, PCA Talks, organized by the Philippine Constructors Association (PCA).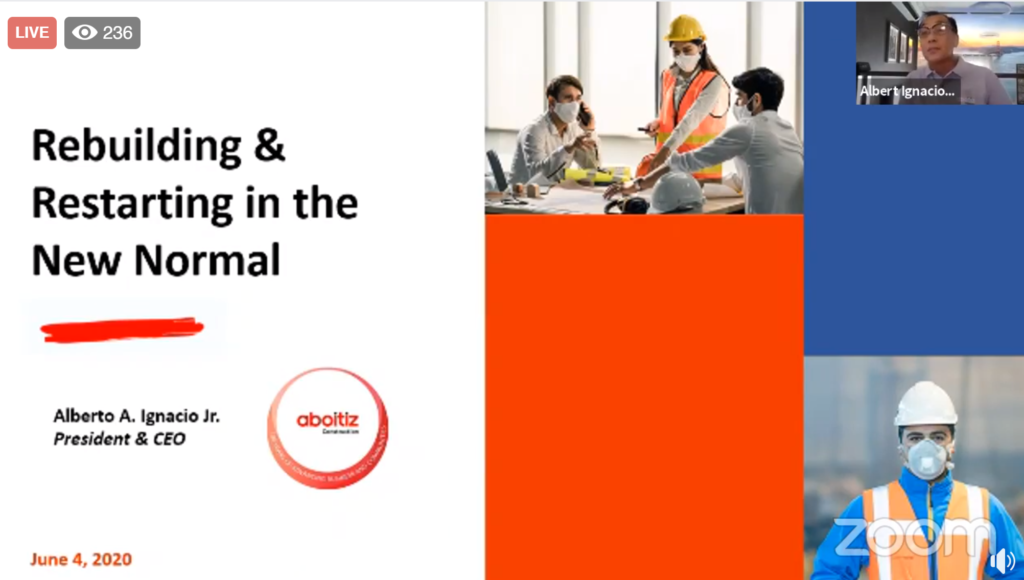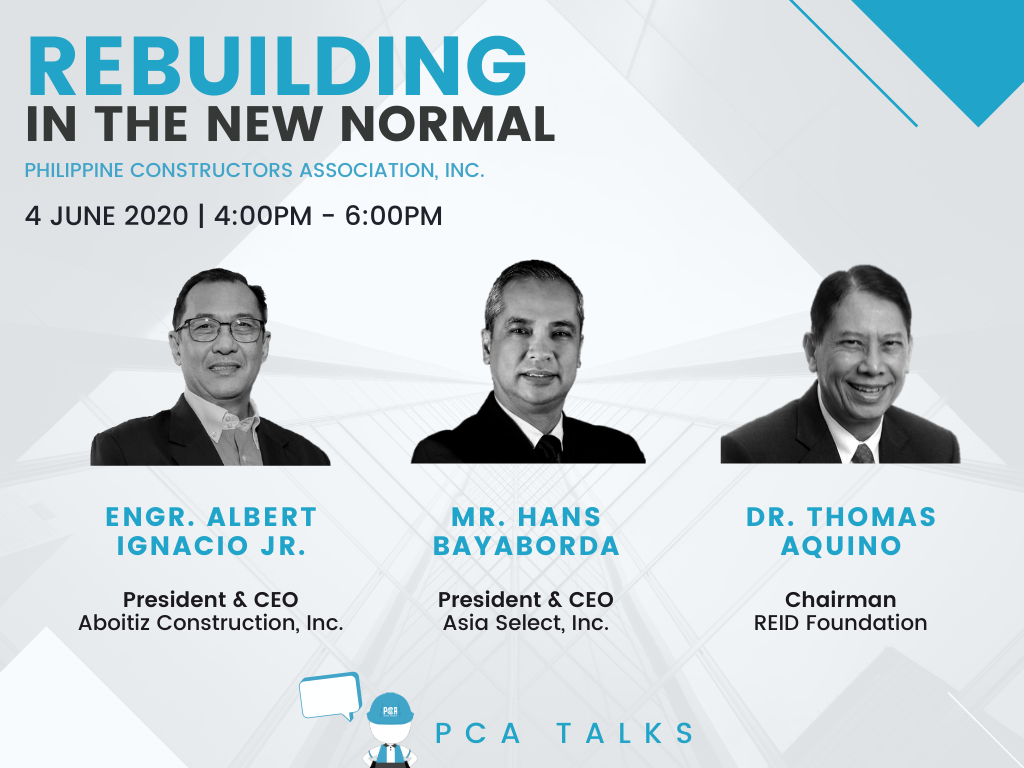 As most industries prepare to resume work under the general community quarantine (GCQ) and modified general community quarantine (MGCQ), PCA gathers leaders and key players from the different sectors to support Philippine contractors traverse through the new normal via weekly webinars. Over 200 people tuned in the live session and listened from thought leaders in different sectors on how companies can transform, why there is a need to change, and how important it is to have an institutional foundation to face the future.
On confronting the issues the construction industry is facing in the new normal, Aboitiz Construction was quick to adapt to the 'new normal' with its return to work policies and procedures, necessary actions to build resilience and reshape results, and adjustment to the type of leadership. The webinar opened the opportunity for Aboitiz Construction to inspire other companies in the construction industry how to press restart and navigate their way through the new normal while showcasing the Aboitiz culture, core values, and the 'protecting the goose' mindset.
"We have to build resilience in order to prepare recovery. Make decisions with recovery in mind. In this new normal, we can't do the same things as we've been doing before. We have to change, we have to innovate, we have to adjust."

– Albert A. Ignacio, Jr., President and CEO, Aboitiz Construction


AAI's Key Takeaways on Rebuilding and Restarting in the New Normal:
Put people's safety first by initiating or expanding flexible work arrangements, providing infection protection for onsite workers, and issuing regular, transparent communications that reassure employees and align current government policies.
Communicate with stakeholders (clients, suppliers, investors, etc.) with the right amount of business as usual mindset.
Reshape strategies to maintain business continuity. Determine how the crisis affects budgets and business plans while assessing financial and operations risks.
Build resilience and prepare for recovery by reviewing and renewing Business Continuity Plans.
To enhance better project management in the new normal, leaders may have to mix their transactional type of leadership with transformational, where leaders are working with their team to identify what changes are necessary to improve conditions.
Like all other construction companies, Aboitiz Construction was not spared from the effects of the pandemic. But as daunting as the future may be, the company continuously takes pride in its Aboitiz values, resiliency, and business agility that will keep them motivated to rise up through whatever challenges they face. For now, Aboitiz Construction makes do with what they have, works on finishing existing quality projects as safely as possible, and works harder and smarter to get more projects. Through AAI's talk, other companies can take inspiration and better guidance in resuming their operations in the new normal.
You may watch the replay of the PCA Talk below:
Aboitiz Construction is one of the country's most trusted and respected engineering, design, and construction companies in the Philippines with a clientele spanning 17 countries to date. Learn more about us HERE.