Aboitiz Construction visited 6 large companies in Japan.  Fitting of being the "land of the rising sun", Japan poses a hopeful future for the company.   Visited were Wakachiku Construction Ltd., Nippon Steel & Sumikin Engineering Co., Ltd. (NSENGI), Hitachi Zosen Corporation, Tsuneishi Shipbuilding Co., Ltd., Toshiba and Japan Gas Corporation (JGC).
The team was led by its chair, Jaime Jose Aboitiz, and its president and chief operating officer, Albert A. Ignacio, Jr.  Also present was first vice president for business development, marketing, sales and estimating Felma Yap.
Potential projects and tie-ups were discussed, including, but not limited to, construction of a shipbuilding plant, building of a waste recovery plant, expansion of a power plant and other potential businesses.  There was also an exchange of gratitude in projects successfully completed.
According to Jaime Jose Aboitiz, "the Japan visit is expected to strengthen ties with clients, an important ingredient in winning projects."  Trust is greatly valued among Japanese and this is clearly portrayed by repeat orders from these clients.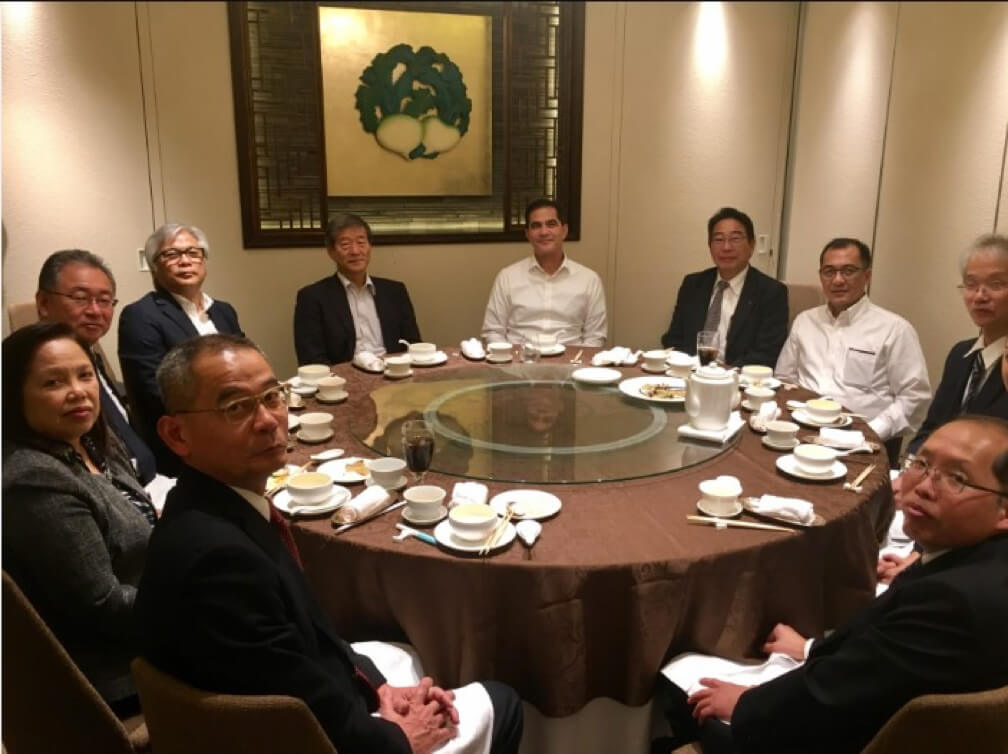 ACI Lunch Meet with Wakachiku Construction Ltd.
Wakachiku, a construction company established in 1890, has made a name in the overseas construction of ports, buildings and civil works.
Nippon Steel & Sumikin is a world-leading engineering company with capabilities in engineering, procurement and construction, as well as operation and maintenance. It provides optimal solutions for customers in a wide range of sectors, such as government, the steel industry, and the oil & gas industry.
Hitachi Zosen, founded in 1881, operates in the 2 business domains of environment/green energy and social infrastructure and disaster prevention in markets across the globe.
Tsuneishi, established in 1917, operates in Japan, China and Cebu for ship building and repair, ranging from bulk carriers, car carriers, wood chip carriers to tankers, for customers throughout the world.
Japan Gas Corporation (JGC), established in 1928, was Japan's first engineering contractor.  It has provided Engineering, Procurement and Construction (EPC) services for customers in Japan and over 80 countries in the areas ranging from energy and chemical-related fields, including oil, gas and resource development, petroleum refining, LNG and gas processing, and petrochemicals, to pharmaceuticals, medical services, nuclear power and non-ferrous metals.
Partnering with these leaders and winners poses an even brighter future for Aboitiz Construction which pursues its purpose of advancing businesses of clients with every structure it builds while, at the same time, advancing communities by the jobs it creates.  While its over 40 years of construction, fabrication, engineering and project management services pale in comparison with the combined centuries of experience of the Japanese companies, there is no stopping the company in accelerating its growth.